Summer 2017 André Pierre Arnal Trajectoire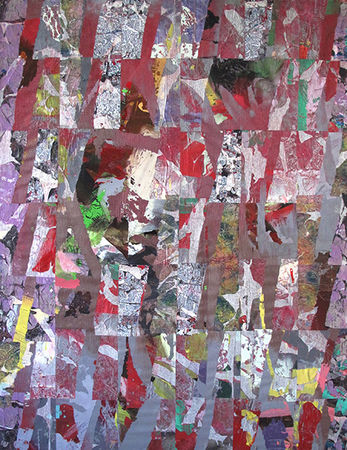 ---
André Pierre Arnal
Trajectoire
Works from 1969 to 2017
From June 9 to October 2, 2017
"It goes without saying that the size of a place like the Bouvet Ladubay Contemporaary Art Center can only give the idea of ​​a retrospective.This vast art center and many partitions, not to mention a ceiling height that allows to hang large canvases ; also Arnal did not hesitate to call his exhibition: Trajectoire - Works from 1969 to 2017.
It is not too much to say that this is his first retrospective and that at his age (77), it was about time !"
Jean-Pierre Huguet, Publisher (link http://www.editionhuguet.com/)
- Canvases (wrinkling, crumpling, folding, tearing ...)
- Papers (monotypes, collages, mixed media)
- Light sculptures
- Rolls (bottom wall)
- Opera (500 volumes) lended by Centre d'Art Georges Pompidou, Paris
- Unique books
Born in Nîmes in 1939, and after a brief stint in the Fine Arts of Montpellier, André-Pierre Arnal continued in the 1960s solitary research, marked by the discovery of Matisse, American abstract and especially Paul Klee.
He works today in his Paris studio. In the 1970s, based on an exploration of the "monotype" technique, he made the "paper hen" the starting point of a series of folder papers on canvas that naturally put him in the Supports / Surfaces group's problematic, which he will share the adventure.
The catalog of the exhibition André Pierre Arnal (Editions Jean Pierre Huguet)