Cycling Visit of Cellars

As a pioneer in wine tourism for over 25 years, Bouvet Ladubay offers a new experience to its visitors; the visit of its cellars by bike!
Enter the depths of these monumental underground galleries : ancient "Tuffeau" stone quarries, the white limestone of Anjou, that originated our terroir.
Discover La Cathédrale Engloutie (the "Sunken Cathedral") and all the winemaking processes to produce our sparkling wines.
With friends or family (8 people at the most) ; we lend you an authentic "Vintage" bicycle, from the annual Saumur event " Anjou Velo Vintage" that Bouvet Ladubay is a partner of since the 1st edition.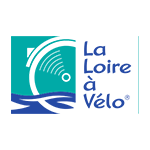 Download our Brochure
Bicycle guided tour ("Anjou Vintage" bike lended by us)
€ 9 per adult
€ 5 per child (14-18 years old)
On booking only, for 8 people maximum.
Time : 1h30 of guided tour ( 1h00 inside the cellars by bycicle and 30 minutes of tasting).
For security purposes, children under 14 years old are not accepted on cycling tour ( including behind their parents or with their own bike).
This guided tour last about an hour and thirty minutes for the tasting.
The duration of the tour may vary depending on the number of visitors.