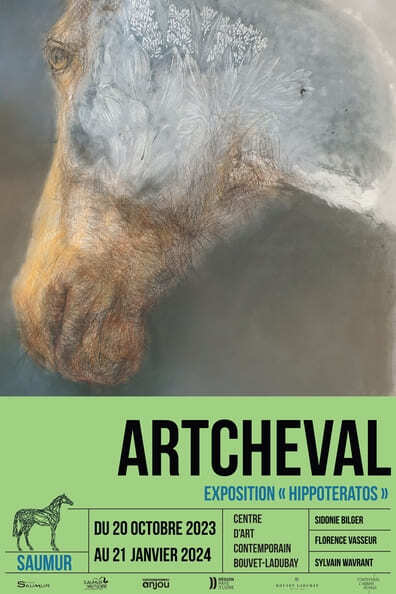 ARTCHEVAL 23/24 - Exhibition « HIPPOTERATOS »
Exhibition from 20 October 2023 to 21 January 2024
ARTCHEVAL is the annual rendezvous for contemporary artistic creation on the theme of the horse, for this 31st edition in its new format since 2020: a group exhibition resulting from an artistic residency in Saumur.
The Bouvet Ladubay Contemporary Art Center presents Hippoteratos, an exhibition featuring the artists Sidonie Bilger, Florence Vasseur and Sylvain Wavrant, as part of the ARTCHEVAL artistic residency initiated by the Comité Equestre de Saumur, in partnership with the Royal Abbey of Fontevraud and Bouvet Ladubay.
The works in the Hippoteratos exhibition are the fruit of a residency lasting several weeks, dedicated to discovering the equestrian world of Saumur. Artists are invited to explore all aspects of horse-related life in Saumur, and to immerse themselves in the unique atmosphere that Saumur has to offer.
For the "HIPPOTERATOS" exhibition, Sidonie Bilger, Florence Vasseur and Sylvain Wavrant invite you to renew your vision of the relationship between man and animal, and to question the place the horse occupies in our society.
Opening time :
Wednesday to Sunday, 10:00 am to 12:30 pm and 2:00 pm to 5:30 pm
Closed Monday and Tuesday
Contact Bouvet Ladubay Contemporary Art Center:
centredart@bouvet-ladubay.fr / + 33 2 41 83 83 83
Press contact :
Pricillia GUEMAS / pguemas@saumur.org / + 33 6 31 49 92 49
---
---
Other Exhibitions & Programs
---
The idea behind the creation of the Art Centre
The idea behind the creation of the Art Centre is to revive the pleasures and the spirit of the Renaissance right in the very heart of the Loire Valley.
Officially opened in 1992 under the patronage of Gonzague St Bris, a French writer and journalist, and with Benoît Lemercier as Artistic Director, there are nine exhibition rooms and a lobby-library, covering almost 800m2 (8,600 sq. ft).
"We have contributed, modestly but with enthusiasm, to opening up the world of contemporary art to both the local population and to visiting tourists," says Benoît Lemercier. "The wide range of exhibitions we program means that a visitor can confront a work directly, can love it or not, in any case to refine one's own taste and thoughts."