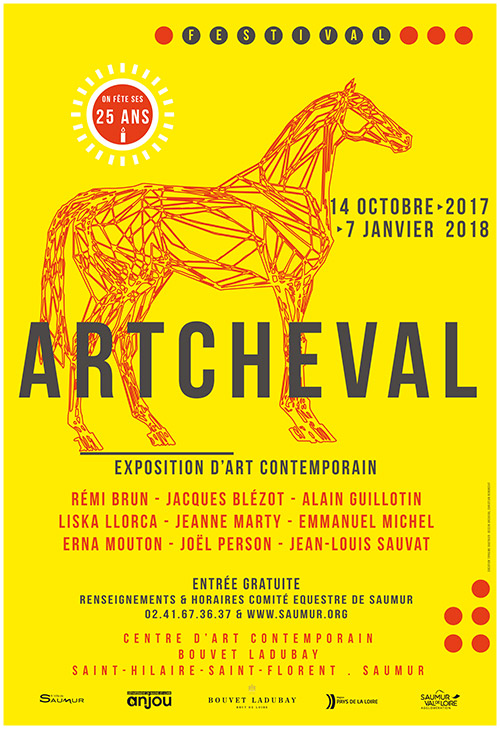 Art Cheval
25 ans
du 14 octobre 2017 au 7 janvier 2018
ARTCHEVAL a fêté son 25ème anniversaire en octobre dernier, au Centre d'Art Contemporain Bouvet Ladubay, à Saumur.
A cette occasion toute particulière, aucun appel à création n'a été lancé.
Une cinquantaine d'œuvres de plus de 30 artistes étaient habituellement exposées, créant une exposition collective aux différents regards portés sur le thème du « cheval».
Cette édition sera une rétrospective des 25 dernières années, et consacrera les 8 salles principales du Centre d'Art Contemporain Bouvet Ladubay à 8 artistes primés à ARTCHEVAL.
REMI BRUN / JACQUES BLEZOT / ALAIN GUILLOTIN / LISKA LLORCA / JEANNE MARTY / EMMANUEL MICHEL / ERNA MOUTON / JOEL PERSON
à partir du 14 octobre 2017 et jusqu'au 7 janvier 2018
Comme depuis 25 ans, l'entrée reste libre et gratuite.
Jours et horaires d'ouverture :
Lundi & Mardi : fermé
Mercredi & Jeudi & Vendredi : 14h/17h
Samedi : 14h/18h
Dimanche : 10h/12h - 14h/17h
---
---
The idea behind the creation of the Art Centre
The idea behind the creation of the Art Centre is to revive the pleasures and the spirit of the Renaissance right in the very heart of the Loire Valley.
Officially opened in 1992 under the patronage of Gonzague St Bris, a French writer and journalist, and with Benoît Lemercier as Artistic Director, there are nine exhibition rooms and a lobby-library, covering almost 800m2 (8,600 sq. ft).
"We have contributed, modestly but with enthusiasm, to opening up the world of contemporary art to both the local population and to visiting tourists," says Benoît Lemercier. "The wide range of exhibitions we program means that a visitor can confront a work directly, can love it or not, in any case to refine one's own taste and thoughts."