Sommer 2022 Guy de Rougemont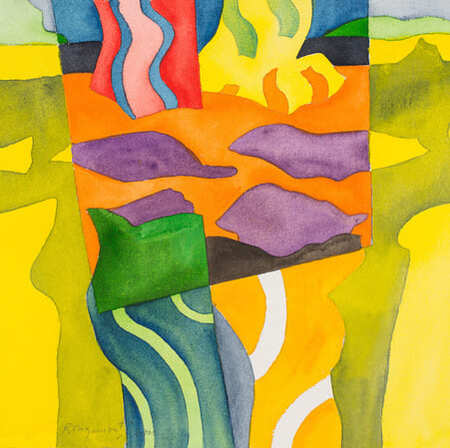 ---
GUY DE ROUGEMONT
Exhibition from June 4 to October 2, 2022
On the occasion of its 30th anniversary, the Bouvet Ladubay Contemporary Art Center pays tribute to the French artist Guy de Rougemont (1935 – 2021), through a retrospective exhibition from June 4 to October 2, 2022.
"Guy de Rougemont invented a galaxy made of cylindrical shapes, ellipses, totems, serpentine lines, which offers a polychrome symbiosis between minimalism and pop art" Renaud Faroux, art historian
This exhibition, organized on the initiative of Benoît Lemercier, artistic director of the Center – honors the complete and prolific artist that was Guy de Rougemont, thanks to a rich selection of works retracing all of his creations. : Volumes, paintings, cylinders, watercolors and artists' furniture.
The diversity of the selected pieces, iconic or more intimate, offers a marvelous panorama of the artist's multidisciplinary artistic practice.
The exhibition highlights his talent as a painter, through his first vinyl paintings on canvas, the starting point for the exploration of shapes and lines that would later make him famous.
The exhibition also showcases the designer talents of Guy de Rougemont, although he would prefer the term "artists' furniture" for his creations. They testify to the artist's desire to bring art into everyday life and to make it accessible to all.
Guy de Rougemont has already been exhibited at the Bouvet Ladubay Contemporary Art Center in 1995.
Opening time :
Tuesday to Saturday from 10 a.m. to 1 p.m. and from 2:30 p.m. to 6 p.m.
Sunday from 2:30 p.m. to 6 p.m.
This retrospective exhibition was organized with the support of the galleries:
Diane de Polignac Gallery - Paris Passage Gallery - Paris
Keza Gallery – Paris
Gallery Pierre - Alian Challier - Paris
and many private lenders.
Contact Bouvet Ladubay Contemporary Art Center:
Uliana Dorokhina
02 41 83 83 83 – galerie@bouvet-ladubay.fr
Press contacts:
Communic'Art Agency - Chloe Martin
07 69 75 11 78 - cmartin@communicart.fr