Visit our cellars

In the Loire Valley, in the heart of the Saumur region, Bouvet Ladubay, producer of fine Brut de Loire wines, welcomes you in its 8 kilometers of cellars dug into the local 'Tuffeau" stone.
Patrice Monmousseau, the third generation of Monmousseau Family took over the reins of the Company from his father in 1972. The wines of Bouvet-Ladubay have received over 500 medals and awards, thereby confirming the quality of our cuvées.
Open 7 days a week, all year round, you can come and visit our cellars, taste our wines and discover the 'Méthode Traditionnelle' sparkling wine making process.
Cycling Visit of Cellars

Pioneering in Wine Tourism since 25 years, Bouvet Ladubay offers its visitors a completely new experience the « Cycling Visit of the Cellars ». Come together with your friends or family! You will have an opportunity to rent an authentic vintage bicycle from «
Anjou Vélo Vintage
».
April 13th, 2014 - Wine and Literature Festival, 19th Edition
Dedicated to Jean Carmet, the famous French actor, the Wine & Literature Festival was created in 1996 by Patrice Monmousseau and Jean Maurice Belayche (Bouvet Ladubay) together with the partnership of Parisian editors Jean-Yves Clément and Arnaud Hofmarcher. The aim was to cross two essential elements of French culture and heritage: its literature and its wine.
The 19th edition of the festival entitled "L'Humour" (Humor) will bring together gold medal Loire wine producers, 140 authors and prominent people representing the French "art de vivre" at the Bouvet Ladubay premises on Sunday April 13th.
(We inform you that there will be no tours for individuals or groups that day)
June 28th & 29th, 2014 - "Anjou Vélo Vintage" 4th Edition
Held since 2011 and organised by the General Council of Maine-et-Loire, Anjou Vélo Vintage is the foremost French retro cycling event.
The third edition has confirmed its success in bringing together 2,650 participants and 20,000 visitors from 71 departments and 20 countries.
Anjou Vélo Vintage is now an un-missable event for cycling enthusiasts and vintage fashion aficionados.
With enthusiast participants of Anjou Vélo Vintage cycling through its cellars, Bouvet Ladubay decided to move a gear up on the occasion of the 4th edition of Anjou Vélo Vintage.
All participants will have the honor to fasten their adventure in the cellars of Bouvet Ladubay, whose history with the bicycle dates back to its founder, Etienne Bouvet, creator of the first velodrome in Saumur in 1894.
(We inform you that there will be no tours for individuals or groups that day)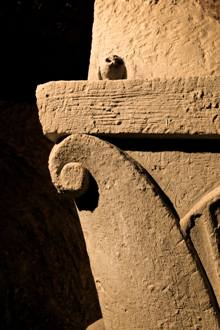 "La Cathédrale Engloutie"
At the end of the 19th century, the quarrying of the local "Tuffeau" stone from under the ground that was used to build many monuments in France and around Europe ceased. The iconic stone dug during the previous 1,000 years gave birth to castles, chateaux, abbeys, monuments and towns of the Loire Valley, and is also said to be part of Westminster Abbey in London.
The vision of "La Cathédrale Engloutie" (The Underground Cathedral) is like in a dream and as the legend of "The horse buried in the stone", maybe there are more ruins of ancient monuments in our cellars that could have once existed.
Our team will welcome you all year round, 7 days a week, to visit the cellars and to taste our wines.
Discover our wine shop:
From June 1st to September 30th:
Monday to Friday from 8:30am to 7:00pm
Saturday from 9:00am to 7:00pm
Sunday from 9:30am to 7:00pm
Last visit at 6:00pm
From October 1st to May 31st:
Monday to Friday from 8:30am to 12:30pm and from 2:00pm to 6:00pm
Weekend and holidays from 10:00am to 12:30pm and from 2:30pm to 6:00pm
Last visit at 5:00pm
Visit price:
€ 2 per adult
€ 1 per child (over 8 years old)
Free for groups of 12 or more people
*Up to groups of 400 who will be shown round in groups of 50 (by reservation only).
Visit by bike price ("Anjou Vintage" bike lended by us)
€ 4 per adult
€ 2 per child (14-18 years old)
*Up to groups of 8
Length of visit
1 hour (by reservation only)