Veröffentlicht 11/03/15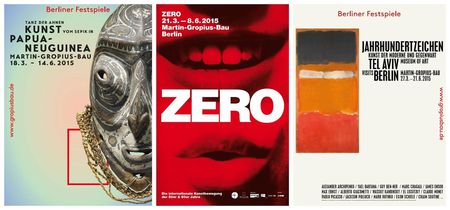 In march, there are 3 new exhibitions with Bouvet Ladubay Brut de Loire in MARTIN GROPIUS BAU, in Berlin:
Bouvet Ladubay, Brut de Loire is a partner of MARTIN GROPIUS BAU in Berlin. Originally built in 1881 as a musée des arts et métiers, MARTIN GROPIUS BAU is today the place of some of the best international travelling exhibitions of art and pictures. The building of MARTING GROPIUS is also considered as a visual treasury.
This month, it hosts 3 new exhibitions :
- From the 18th of March to the 14th of June
« La dance des Ancêtres », Art of the Valley of Sepik, Papua, New Guinea
A project in collaboration with the musée des Arts Premiers of Paris
- From the 21th of March to the 8th of June
Zero : the international artistic mouvement of the years 50s and 60s
More than 50 years after the fundation of the Zero mouvement, this exhibition welcomes not only founders artists but also other artists who are close to this mouvement like Lucio Fontana and Yves Klein.
- From the 27th of March to the 21th of June
« La marque du siècle » : The Tel Aviv museum of arts expose in Berlin.
For the 50th aniversary of the establishement of german-israelian relations, the museum of Arts of Tel Aviv sends, for the first time, 70 masterpieces in Europe, Berlin.
More information :