André Pierre Arnal
Trajectoire
Œuvres de 1969 à 2017
Du 9 juin au 2 octobre 2017
" Il va de soi que l'ampleur d'un lieu puisse susciter l'idée d'une rétrospective.Un vaste centre d'art et de nombreuses cloisons, sans parler d'une hauteur de plafond qui permette d'accrocher de grandes toiles. Aussi Arnal n'a pas hésité à appeler son exposition : Trajectoire - Œuvres de 1969 à 2017
Il ne faut pas trop insister pour lui faire dire que c'est sa première rétrospective et qu'à son âge (77 printemps), il était temps. ! "
Jean-Pierre Huguet, Editeur ( lien http://www.editionhuguet.com/ )
- Toiles (fripages, froissages, pliages, arrachements...)
- Papiers (monotypes, collages, techniques mixtes)
- Sculptures légères
- Rouleaux (mur du fond)
- Opéra (500 volumes)
- Livres uniques
Né à Nîmes en 1939, et après un rapide passage aux Beaux-arts de Montpellier, André-Pierre Arnal poursuit dans les années 1960 une recherche solitaire, marquée par la découverte de Matisse, des abstraits américains et surtout de Paul Klee. Il travaille aujourd'hui dans son atelier parisien. Dans les années 1970, à partir d'une exploration de la technique du « monotype », il fera de la « cocotte en papier » le point de départ d'une série de pliages sur toile qui l'inscrira naturellement dans la problématique du groupe Supports/Surfaces, dont il va partager l'aventure.
Le Catalogue de l'Exposition André Pierre Arnal (Editions Jean Pierre Huguet)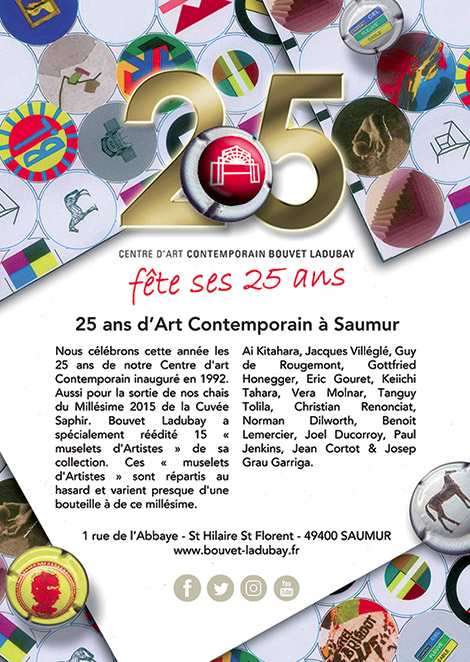 Le Centre d'Art Contemporain
Bouvet Ladubay fête ses 25 ans !
Œuvres de 1969 à 2017
Du 9 juin au 2 octobre 2017
Le Centre d'Art Contemporain Bouvet Ladubay a ouvert ses portes en 1992 et fête ses 25 ans cette année, afin de célébrer cet anniversaire pour la sortie du nouveau Millésime 2015 de la Cuvée Saphir Saumur Brut ( lien cuvée http://www.bouvet-ladubay.fr/les-cuvees/la-collection/19-bouvet-saphir-vintage.html ) Bouvet Ladubay a réedité 15 Muselets d'Artistes répartis au hasard et variant presque d'une bouteille à l'autre.
Le Centre d'Art Contemporain Bouvet Ladubay n'a cessé de promouvoir la création contemporaine dans sa plus grande diversité. En organisant des expositions collectives ou personnelles, il a présenté les artistes majeurs des différents courants artistiques.
---
---
The idea behind the creation of the Art Centre
The idea behind the creation of the Art Centre is to revive the pleasures and the spirit of the Renaissance right in the very heart of the Loire Valley.
Officially opened in 1992 under the patronage of Gonzague St Bris, a French writer and journalist, and with Benoît Lemercier as Artistic Director, there are nine exhibition rooms and a lobby-library, covering almost 800m2 (8,600 sq. ft).
"We have contributed, modestly but with enthusiasm, to opening up the world of contemporary art to both the local population and to visiting tourists," says Benoît Lemercier. "The wide range of exhibitions we program means that a visitor can confront a work directly, can love it or not, in any case to refine one's own taste and thoughts."